EDUCATIONAL ENRICHMENT FOR ROMANIAN CHILDREN  (EERC)
EERC is non profit organization devoted to opening the door to a new world of possibilities for Romanian middle school students of exceptional promise. Our program is based on the conviction that early adolescence is a critical time for shaping  students  views of the world and of their own potential.The impact of a summer abroad can be profound and can last a lifetime. The students will attend some of Boston's premier summer camps while hosted by local families. They engage in a wealth of stimulating intellectual and social activities that would not be accessible to them at home.Among the values we promote are community service, civic engagement, environmental stewardship and tolerance of diversity -- values essential to full engagement in a world without borders.This experience can be the springboard to other possibilities that take these youngsters further than they may have imagined possible. 
Our young friends bring the world closer to home for the Americans they meet. At home or at camp, the intimacy of daily interactions with someone from a different country leads both sides not only to learn about each other, but also to see their own culture through different eyes.The differences are a lesson in diversity, a living example of the exhilarating vastness of the world outside one's own borders.Invariably, it is the similarities that leave the most enduring imprint.  The experience is a win-win-win situation: for the students  and for the Americans whose lives they touch while in Boston.   
 APPLICATION PROCESS FOR SUMMER 2016 OPENS
  NOVEMBER 15-30

Students will spend 4-5 weeks in Boston area starting end of June. They will  attend local camps and will interacting with local families. The camps are selected for their comprehensive curriculum with emphasis on art- sport- leadership skills-  encouraging personal growth. EERC organizes  various educational trips to Boston and surroundings area- academic centers, historical sites, etc. FAQ is the Romanian page addressing some of the details.The application forms can be viewed at HOW TO APPLY page.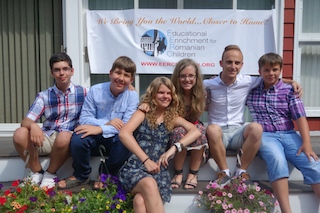 ---